Tasty Thanksgiving Recipes Your Guests Will Gobble Up
Thanksgiving is one of our favorite holidays here at Startr Co. It's all about friends, family, and most importantly FOOD! Being a public relations agency for startups, we work with a variety of leading food and beverage brands. We've rounded up a few mouthwatering recipes from our clients that are sure to be wow everyone's taste buds at your Thanksgiving get-together.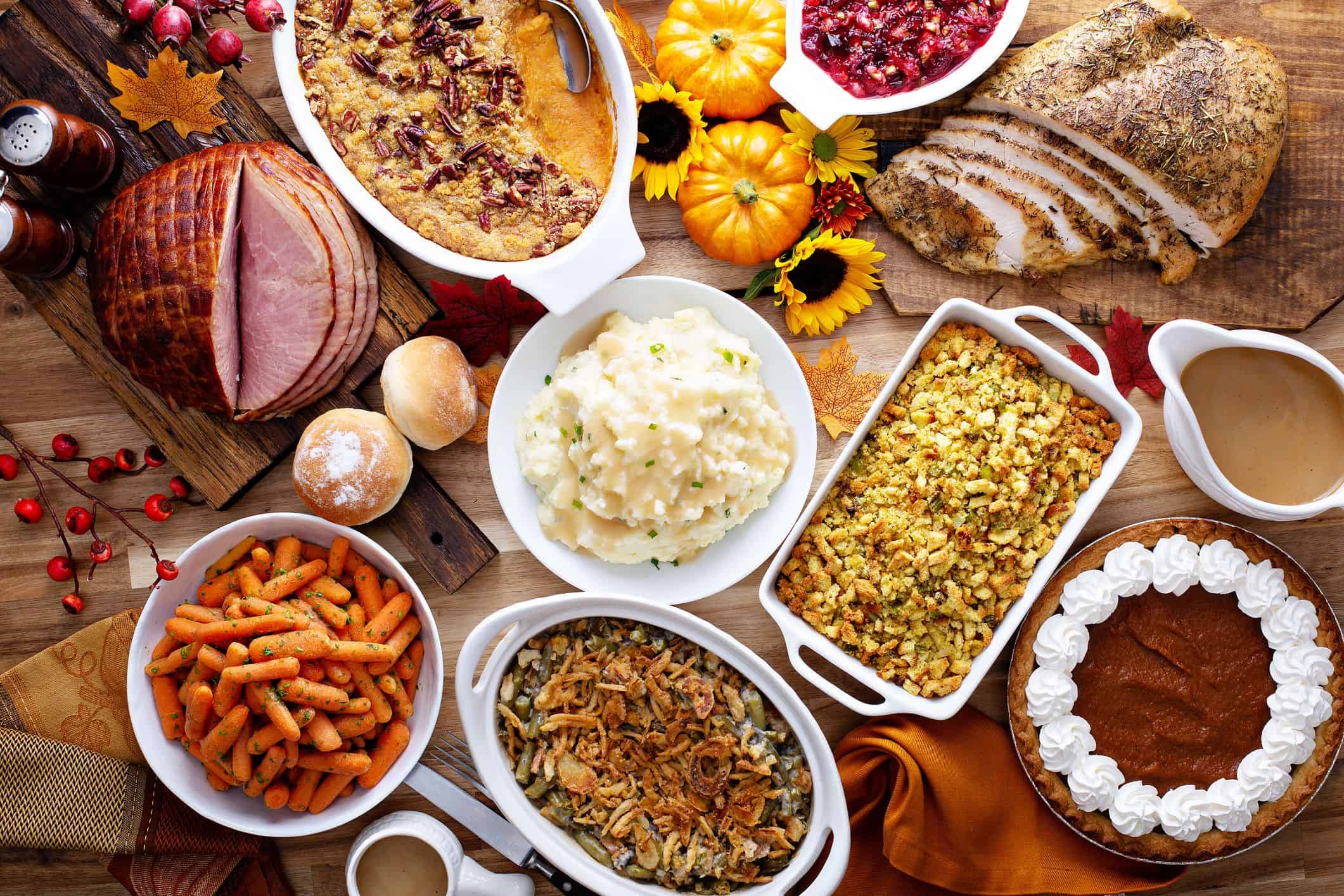 Get the party started with this appetizer

Beanfields' Savory Pumpkin Hummus: This savory dip is the perfect pre-Thanksgiving dinner appetizer that is equal parts delicious and savory that will keep your guests coming back for seconds (or thirds).
What You'll Need:
(2) 15 oz cans of garbanzo beans
1/4 cup lemon juice
1/4 cup tahini paste
4 tablespoons of olive oil
2 cloves of garlic
1/2 teaspoon salt
1/2 teaspoon cumin
1/2 teaspoon paprika
1/2 teaspoon sage
1/8 Teaspoon cayenne pepper
1 cup pumpkin puree
3/4 tablespoon water
1/4 cup of pumpkin seeds (to garnish)
1 bag of your favorite Beanfields chips
Directions:
Combine beans, lemon juice, tahini paste and olive oil in food processor
Add seasonings and pumpkins and process for one minute
Add water until desired consistency
Garnish with pumpkin seeds and enjoy with your fave Beanfields chips! We recommend the Himalayan Pink Salt Chips 😉
The perfect side dish
Cappello's Sweet Potato Gnocchi with Maple, Bourbon, and Rosemary Glazed Pecans: Because would it really be Thanksgiving without sweet potatoes?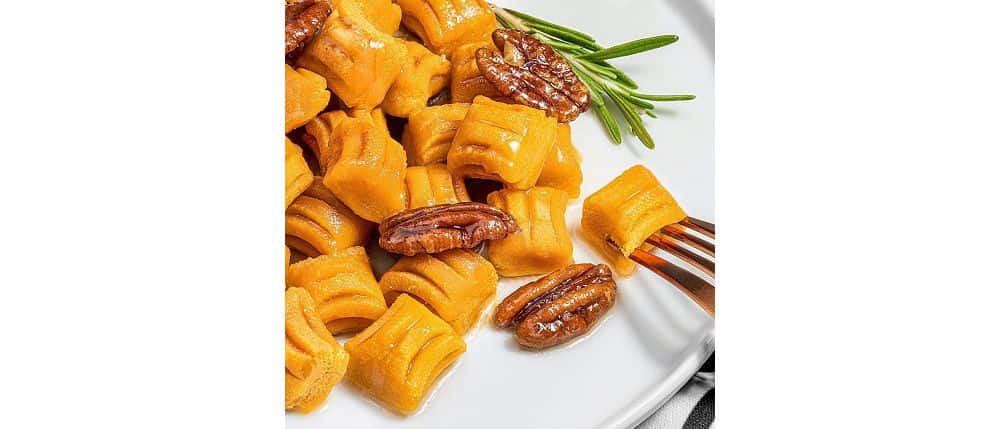 What You'll Need:

1 box of Cappello's Sweet Potato Gnocchi
3 tablespoons ghee
2 tablespoons pure maple syrup
2 tablespoons fresh apple cider
2 teaspoons bourbon
1 sprig fresh rosemary (plus more to garnish)
1/4 cup pecan halves
Pinch of sea salt
Directions:

Cook gnocchi according to package directions. Drain, and set aside in a bowl.
In a small saucepan over medium-high heat, melt the ghee with the maple syrup.
Whisk in the apple cider, bourbon, and rosemary, and bring to a boil.
Reduce heat to low, add the pecans and salt, and stir frequently 1 to 2 minutes. Remove rosemary sprig and discard.
Pour the mixture over the sweet potato gnocchi and gently stir to coat.
Serve warm garnished with rosemary, as desired.
Don't forget dessert!
KOS' Vegan Pumpkin Cheesecake: A dessert that tastes as good as it sounds.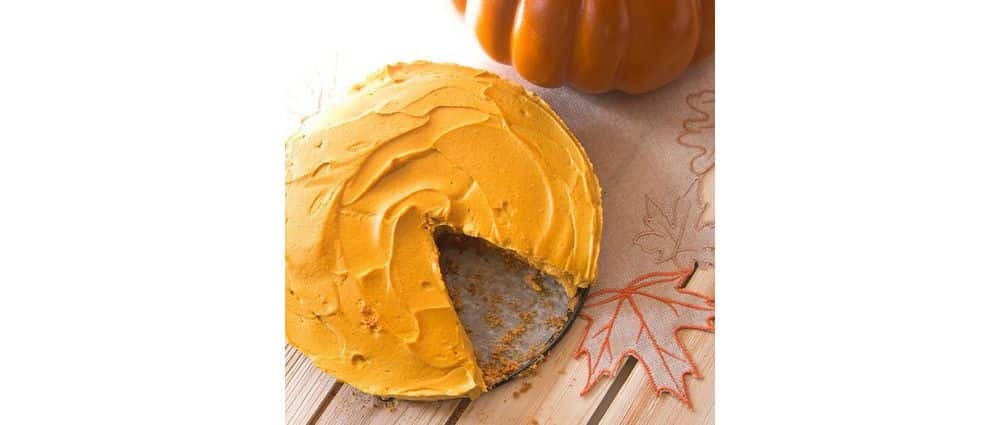 What You'll Need:

1 3/4 cups graham cracker crumbs
1/2 cup melted vegan butter
1 1/4 cups raw cashews, soaked in water overnight (or 3 hours with boiling water poured over), drained
1 1/2 cups (one 15 oz. can) pumpkin puree
1 teaspoon vanilla extract
1 tablespoon pumpkin pie spice
1/3 cup maple syrup
1/2 cup unsweetened coconut, nut, or soy milk
2 tablespoons melted coconut oil
2 scoops of KOS Cinnamon Bark Powder
juice of 1/2 lemon
pinch of salt
Directions:

Preheat the oven to 350 degrees F. Stir together the graham cracker crumbs and melted butter. Press firmly into the bottom of a 9-inch springform pan. Bake for 10 minutes. Cool completely.
Place drained cashews, pumpkin, vanilla, pumpkin spice, syrup, milk, lemon, salt, coconut oil, and cinnamon in the bowl of a food processor or blender. Blend until completely smooth. Taste and add more syrup if you would like your pie sweeter.
Pour the filling into the prepared crust and smooth with a spatula. Place in the freezer to set for at least 2 hours or overnight. Remove from the freezer an hour before serving. Store in the refrigerator and serve chilled with pomegranate arils, sugared cranberries, or whipped cream.
What about those leftovers?
Cleveland Kraut's Leftover Turkey Egg Rolls with Gnar Gnar: An easy way to make room in your fridge by filling your belly with delicious leftovers!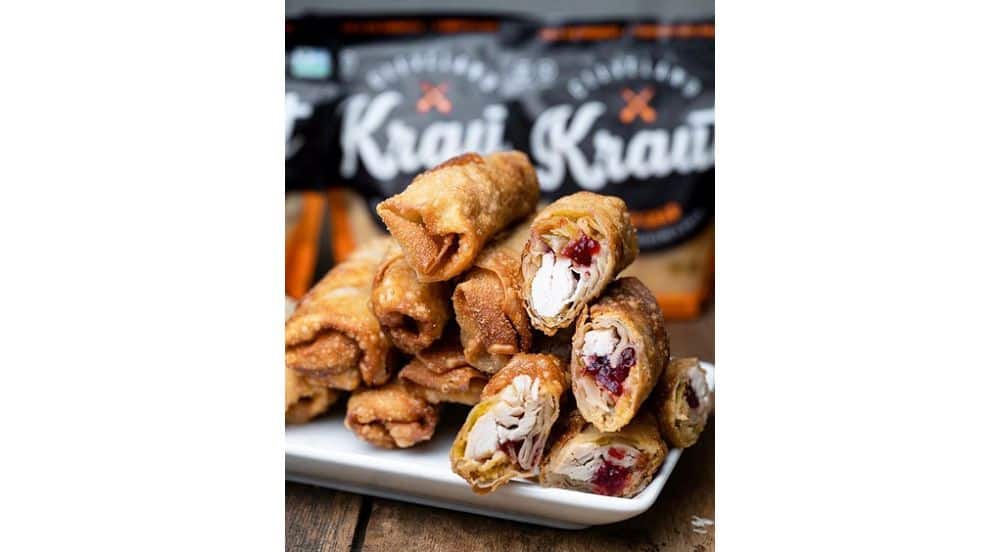 What You'll Need:

1 cup of leftover Thanksgiving turkey
1 cup of leftover Thanksgiving stuffing
1 cup of Cleveland Kraut Gnar Gnar
1/2 cup of leftover cranberry sauce
12 egg roll wrappers
Vegetable oil
Directions:

Heat oil in a heavy bottom pan to 375°F
Place an egg roll wrapper on a clean surface, with the points facing, up, down, left and right
In the center of the wrapper, layer 1 tablespoon of stuffing, Gnar Gnar Kraut, turkey, and a teaspoon of cranberry sauce
Fold the top corner of the egg roll wrapper over the filling
Fold in the left corner and the right corner
Place a bit of water on the bottom corner of the egg roll
Roll the rest of the egg roll to close
Deep fry for 2-3 minutes until golden brown
Now that we've shared these delectable recipes, let us know which one is your favorite. Lastly, Happy Thanksgiving from our Public Relations Los Angeles family to yours!
Happy feasting,
Erika